Food retail cleaning
Especially in food retail, customers expect safe and clean floors.
A good image is the hallmark of any business and it pays off at the end of the day with higher sales. With the haid-tec cleaning products you are well equipped for the following areas of application in food retail:
Cleaning of large areas with cleaning machines
Special case: removal of adhesive strips
Mechanical cleaning of large areas
Due to the large number of square meters that have to be cleaned every day, cleaning of the floor with cleaning machines is the most economical method. The correct equipment of the cleaning machine (pads instead of brushes) and the use of the right cleaning agent make the difference here.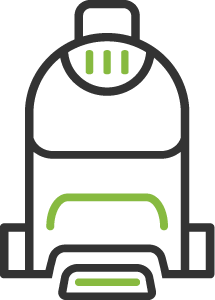 MelaminPlusPad 11inch/280mm for scrubber dryer - for intensive cleaning and daily cleaning
for cleaning heavily soiled floors, easy to assemble, maximum dirt removal, long service life Product description - melamine pads for scrubber dryers melamine pad with robust backing material, inner hole 85mm, incl. recess in the foam part for easy mounting on the machine driver plate using the inner hole holder / center lock Application instructions of melamine pads for scrubber dryers for use in basic and maintenance cleaning can be used on almost all scrubber dryers and single disc machines using standard pad holders Fields of application on mineral floor coverings, fine stoneware, many natural stones, artificial stone and structured surfaces and for many other types of floor coverings (test in an inconspicuous place beforehand) please note the product data and the instruction sheets Advantages of melamine pads for scrubber dryers CLEAN - With the haid-tec Melamine Plus Pad Basic your floor will shine like new - together with a scrubbing machine you will get an incredible cleaning result. It can be used with all common cleaning agents without any problems STRONG - Thanks to the use of high-quality raw materials, our melamine pad from haid-tec is extremely tear-resistant and therefore has a service life of 10,000 square meters and more during routine cleaning. DIRT - Our premium pad for scrubber dryers removes even the most stubborn dirt. After an effective cleaning, your floor will shine like on the first day. SURFACES - The melamine pad for scrubber dreyrs cleans your mineral floor coverings and textured surfaces and gives them an incredible shine. QUALITY - Save time and money with our high-performance and sustainable melamine pad made from high-quality melamine resin foam.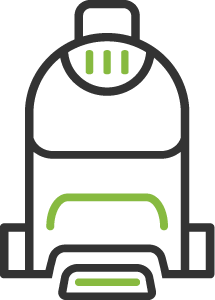 PolyPlusPad 11inch/280mm for scrubber dryer
extremely long service life and high dirt removal, washable up to 60°, can be used with all cleaning agentsProduct description - PolyPlusPad for srubber dryersThe PolyPlusPads consist of polyester active fibers that are finer than the fibers of conventional scouring pads or the bristles of brushes. The fine fibers get deeper into the microscopic depressions of the surface and can thus effectively remove dirt. Pile height approx. 8-10mm, with a robust back and 85mm inner hole as well as stable binding, sewn on the outside with a quilted seam.Application instructions for PolyPlusPads for scrubber dryerssuitable for various floor coverings, such as: stoneware, natural stone, structured tiles, rubber nub coverings, etc.san be used on almost all scrubber dryers using standard pad holdersplease note the product data and the instruction sheetsAdvantages of PolyPlusPad for scrubber dryersoutstanding cleaning results on mineral and resilient floor coveringslong service life of up to 100,000 square meters and morecan be used with all common cleaning agents without any problemscleaning in the washing machine up to 60° (without fabric softener - no dryer) possible at any time
haid-tec Porcelain stoneware cleaner 10L, natural stone and tile cleaner with anti-limescale formula - awarded the EU ecolabel, biodegradable
excellent dirt removal, anti-limescale formula, sustainable with EU ecolabel Product description porcelain stoneware and tile cleaner is an alkaline, highly efficient cleaner for daily maintenance cleaning Fields of application porcelain stoneware and tile cleaner removes stubborn and greasy dirt, heel marks, tracks. Anti-limescale formula prevents limescale deposits and the graying of floor coverings for a streak-free shine indoors and outdoors. Suitable for mineral floor coverings such as fine stoneware, natural stone, natural stone, matt and polished tiles, stone floors Cleaning agent for suction wipers, cleaning machines and any cleaning machines as well as manual cleaning haid-tec stands for green chemistry The haid-tec Porcelain stoneware and tile cleaner for routine cleaning contains special, non-layer-forming surfactants based on renewable raw materials. Free from phosphates, dyes and fragrances. The organic floor cleaner has been awarded the EU ecolabel and is label-free according to the CLP regulation. Quality from Germany Save time and money now with our powerful and sustainable workshop cleaner, degreaser and oil stain remover - made in Germany.Dosage & applicationPorcelain stoneware cleaner can be used for manual and machine cleaning. Correct dosage saves costs and protects the environment. Compared to commercially available, less concentrated cleaners, a lower dosage is required.Machine cleaningDose the porcelain stoneware cleaner from 20-100 ml per 10 litres of water into the machine. Equip your cleaning machine with the haid-tec PolyPlusPad for daily cleaning or the MelaminPlusPad for intensive cleaning instead of a conventional brush.For stubborn stains, apply a 1+6 mixture, leave it to soak in for three minutes and run the machine, filled with fresh water, over the surface to be cleaned without vacuuming. Finally, remove the dirty water with the scrubber-dryer.Manual cleaningDepending on the degree of soiling, add 20-100 ml of porcelain stoneware cleaner to 10 litres of water for regular maintenance cleaning.For intensive cleaning, spread a 1:6 cleaning solution on the floor covering, work mechanically with a scrubbing brush, or better with haid-tec MelaminHandPad with pad holder with handle joint.Remove dirty water with a water scraper and wipe the floor with clean water.
Content: 10 Liter (€8.68* / 1 Liter)
You can achieve great cleaning results with the haid-tec cleaning agents
MelaminPlusPads - have an extraordinarily high mechanical cleaning performance and convince with their low consumption and long service life.
PolyPlusPads - they do not absorb the dirt, they only loosen it so that it can be sucked up with the dirty water from the scrubber drier.
The haid-tec stoneware cleaner meets the high requirements for cleaning in food retail. It is non-slip, does not form layers and has been awarded the European Ecolabel.
Cleaning of edge areas
With the haid-tec cleaning products for manual cleaning, you avoid dirt and layer build-up in edge areas and can thus do without expensive basic cleaning. With our stain remover products, you can even get rid of stubborn stains.
MelaminPlusPad 250x115mm HandPad
Pad with robust backing material, especially for manual use, recommended together with HandPad holders.excellent cleaning results on mineral floor coverings, stoneware, many natural stones, artificial stone and structured surfaces. Suitable for many other types of floor covering (test first on an inconspicuous area)For edge and corner areasObserve product data sheet and application informationAdvantages of MelaminPlusPad hand padExcellent cleaning results & maximum dirt removallong service lifeCan be used with all common cleaning agents without any problems
HandPad Set with Telescopic Handle
effiziente Handreinigung, für Rand- und Eckbereiche, maximale SchmutzenfernungMit diesem HandPad Set ist die Reinigung von "Sicherheitsfliesen" mit hervorragendem Reinigungsergebnis für jedermann möglich. Speziell für kleine Flächen oder zur Reinigung von Ecken, Kanten und schwierig zugänglichen Bereichen.Das Set besteht aus:Aluminium Teleskopstiel 2-teilig, 85-180 cmHandPad-Halterung mit Stielgelenk115*250 mm Melamin HandPad; VPE 5 Stk.140x250 mm Rechteck PolyPlusPad OE ; VPE 1 Stk.1L Flasche haid-tec® Feinsteinzeug Reiniger
haid-tec Universal stain remover, biodegradable, 500 ml spray bottle
works against stains of all kinds, low odor pollution, biodegradable Product description Stain remover is a stain remover that can be used universally against all types of stubborn dirt on tiles and fine stoneware. Fields of application For removing dirt, removes oil, Edding, rubber abrasion, oily dirt and other stains. Suitable for Stain remover can be used on fine stoneware, tiles, paving stones, natural stone, natural stone, stones, vinyl floors, cast stone, hard floors. haid-tec stands for green chemistry All ingredients are biodegradable. Low odor pollution from green solvents and alcohols. Top quality from Germany Save time and money now with our powerful and sustainable stain remover. Additional advantages UNIVERSAL - The haid-tec stain remover reliably removes all types of stains on tiles, fine stoneware, natural stone: oil, Edding, rubber abrasion, grease. EFFECTIVE - The dirt is loosened by the haid-tec stain remover so that it can then be easily removed. EASY - to remove stains, spray on stains, leave on for 5 minutes and then remove with ease. ECO-FRIENDLY - All ingredients are biodegradable. Low odor pollution from green solvents and alcohols. Dosage & application As a special product for treating and removing a wide variety of stains and residues, for occasional use during maintenance cleaning. For use on mineral floor coverings such as fine stoneware tiles or natural stone. Spray stain remover onto the stain If possible, remove dirt with MelaminPlusPad Rubber Soak up dirt with a disposable cloth and rinse with clear water or wipe the treated area with a machine
Content: 0.5 Liter (€33.08* / 1 Liter)
Remove adhesive strips - application & instructions
The best way to remove the adhesive strips on your porcelain stoneware floor is as follows: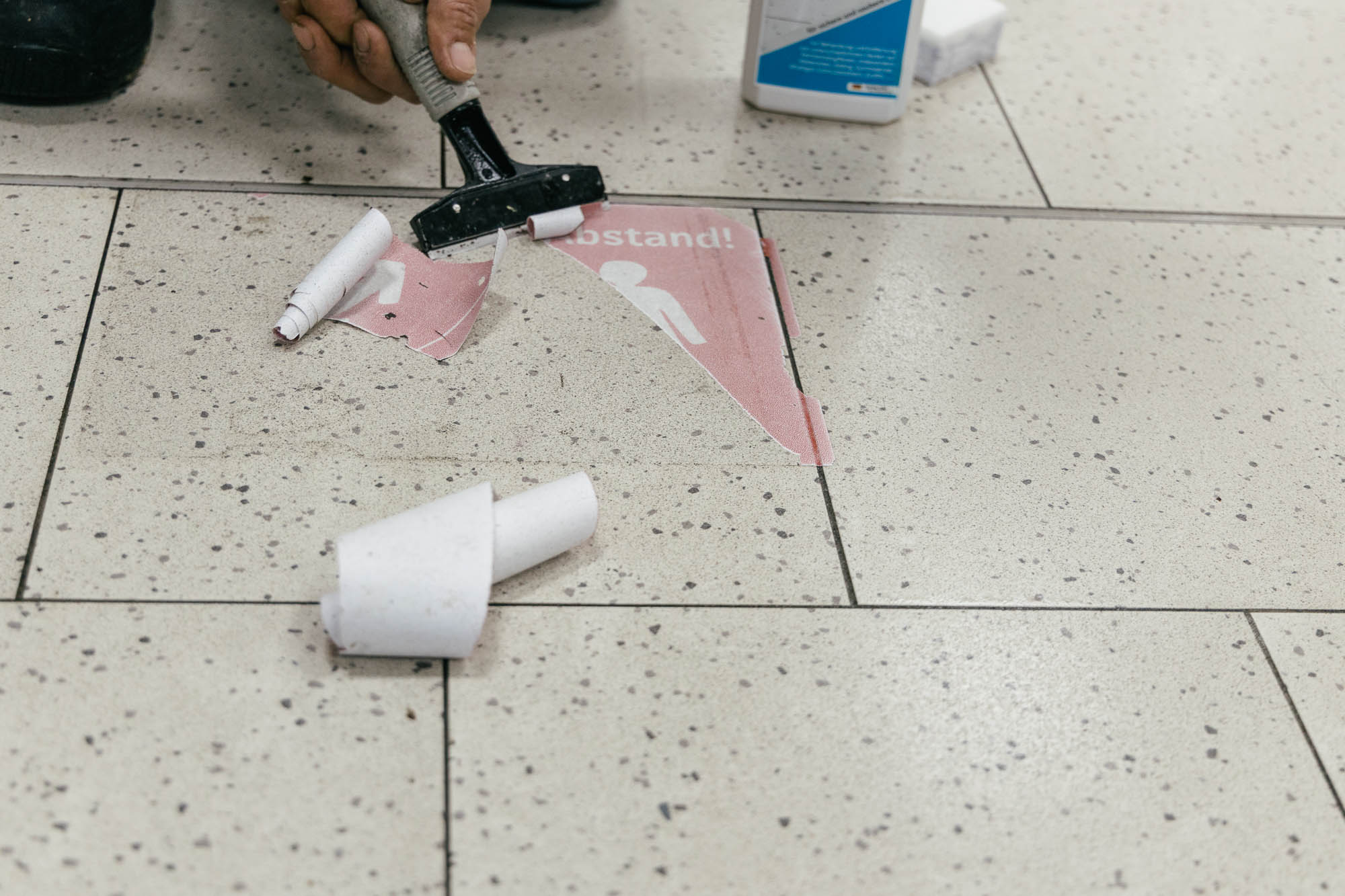 1. Remove glue marks
It is best to use a spatula or glass scraper for this
2. Spray on adhesive residue
The adhesive residues on the floor are sprayed with Stain Remover PLUS (residence time: approx. 4 minutes)
3. Adhesive residue remove
The swollen adhesive residue is then removed with the MelaminPlusPad hand pad
4. Get excellent cleaning results
The adhesive residues have been completely removed. New markings can now be made on the clean surface of the fine stoneware tiles