Terrassenplatten reinigen im Einklang mit der Natur
Bei der Reinigung Ihrer Terrasse arbeiten Sie oft neben einem Blumen- oder Gemüsebeet. Da ist es besonders wichtig auf die Umweltverträglichkeit des verwendeten Reinigungsmittels zu achten. Wir bringen mit unserem Terrassenreiniger und den Profi-Sets für die Terrassenreinigung Wirksamkeit in Einklang mit dem Umweltschutz.
Mit den haid-tec Produkten für die Terrassenreinigung
bekommen Sie Reinigungsprobleme im Aussenbereich in den Griff
schonen Sie die Umwelt und schaden Ihrer Bepflanzung nicht
sind Sie für die manuelle und auch maschinelle Reinigung bestens gerüstet
haid-tec Terrassenreiniger
---
Der haid-tec Terrassenreiniger wirkt gegen Moos, Algen und Grünbelag sowie gegen Flecken, Schmutz und Tierexkremente und das OHNE die Bepflanzung anzugreifen.
Mit dem haid-tec Terrassenreiniger und den haid-tec Maschinenpads sparen wir auf lange Sicht Kosten, wir sind schneller fertig und unsere Kunden sind zufrieden. Und das ganz ohne Hochdruckreiniger und ohne "Mega-Sauerei"
Jörg Thunig
Thunig Dienstleistungen
haid-tec Sets fürs die Terrassenreinigung
---
Mit unseren Profi-Sets für die manuelle oder maschinelle Terrassenreinigung bekommen Sie alle Herausforderungen bei der Reinigung Ihrer Aussenflächen in den Griff.
Profi-Set zur manuellen Terrassenreinigung
effiziente Handreinigung, für Rand- und Eckbereiche, maximale SchmutzenfernungMit diesem Set ist die Reinigung von "Terrassenfliesen" mit hervorragendem Reinigungsergebnis für jedermann möglich. Speziell für kleine Flächen oder zur Reinigung von Ecken, Kanten und schwierig zugänglichen Bereichen.Das Set besteht aus:Aluminium Teleskopstiel 2-teilig, 85-180 cmHandPad-Halterung mit Stielgelenk115*250 mm Melamin HandPad; VPE 2 Stk.140x250 mm Rechteck PolyPlusPad OE ; VPE 2 Stk.1L Flasche haid-tec® Terrassen Reiniger
Basic set for safety tiles
optimal for structured "safety tiles" maximum dirt removalWith this set, the professional cleaning of "safety tiles" with excellent cleaning results is possible for everyone.Set with great value for money!Easy handling, quick execution and high effectiveness are guaranteed.the set consists of:Orbital/eccentric machine Klindex MiniOrbit2 pcs. PolyPlusPads PPP12OEstorage rackdosing cup10 l Kaister haid-tec® fine stoneware cleanerThe oscillating orbital/eccentric machine from the manufacturer Klindex, type MiniOrbit, is suitable for areas of up to approx. 100 square meters. The machine can be easily used by inexperienced or not particularly strong operators due to its good driveability and easy maneuverability. With the 1,400 vibrations per minute, the dirt is literally whirled up.In contrast to scrubbing, the oscillating vibrations with the PolyPlusPad® do not clean "back and forth", but in all directions. The PolyPlusPads PPP12OE have an optimal floor height for effective dirt removal. A special Velcro connection to the machine's driver plate enables the pad to be easily installed on the machine.When the machine is not in use, the pad does not stand directly on the floor covering, but on a storage grate. The pad is ventilated and can dry after use.The haid-tec® fine stoneware cleaner is a highly concentrated special cleaner. It was specially developed for cleaning porcelain stoneware. The haid-tec® fine stoneware cleaner can be dosed easily and sparingly with the enclosed dosing cup and develops its full cleaning power with the PolyPlusPad and the orbital/eccentric machine.
Die haid-tec Maschinenpads
---
Mit dem MelaminPlusPad und dem PolyPlusPad erreichen Sie auf Ihren Terrassenplatten ein aussergewöhnlich gutes Reinigungsergebnis - und das ohne den Hochdruckreiniger. Das MelaminPlusPad ist dabei für herausfordernde Verschmutzungen geeignet, das PolyPlusPad insbesondere für raue Oberflächen.
MelaminPlusPad 16inch/406mm for single disc machine - melamine pad for removing cement residue and for basic cleaning
for basic cleaning, cement residue removal, with a great price-performance ratio, suitable for all basic cleaners Product description - melamine pads for single disc machines melamin Pad with a strong scouring backing, 85mm inner hole Application instructions of melamine pads for single disc machines especially for use on single disc machines for basic cleaning Fields of application outstanding mechanical cleaning results on a variety of mineral surfaces, for example porcelain stoneware tiles, natural stone, artificial stone and textured surfaces appropriate for many types of flooring surface (test on a small inconspicuous area before use) easy to use with all common cleaning agents please note the product data and the instruction sheets Advantages of melamine pads für single disc machines CLEAN - With the haid-tec Melamine Plus Pad Basic your floor will shine like new - Together with a single-disc machine you will get an incredible cleaning result. STRONG - Thanks to the use of high-quality raw materials, our melamine pad from haid-tec is extremely tear-resistant and therefore has a service life of 1,000 square meters and more during thorough cleaning. DIRT - Our premium one-disc polishing pad removes even stubborn cement residue. After an effective cleaning, your floor will shine like on the first day. SURFACES - The melamine pad for single-disc machines cleans your mineral floor coverings and structured surfaces and gives them an unimaginable shine. QUALITY - Save time and money with our high-performance and sustainable melamine pad made of high-quality melamine resin foam - Made in Germany.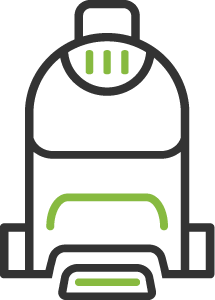 PolyPlusPad 16inch/406mm for single disc machine and scrubber dryer
extremely long service life and high dirt removal, washable up to 60°, can be used with all cleaning agentsProduct description - PolyPlusPad for single disc machines & srubber dryersThe PolyPlusPads consist of polyester active fibers that are finer than the fibers of conventional scouring pads or the bristles of brushes. The fine fibers get deeper into the microscopic depressions of the surface and can thus effectively remove dirt. Pile height approx. 8-10mm, with a robust back and 85mm inner hole as well as stable binding, sewn on the outside with a quilted seam.Application instructions for PolyPlusPad for single disc machines & srubber dryerssuitable for various floor coverings, such as: stoneware, natural stone, structured tiles, rubber nub coverings, etc.san be used on almost all scrubber dryers using standard pad holdersplease note the product data and the instruction sheetsAdvantages of PolyPlusPad for single disc machines & srubber dryersoutstanding cleaning results on mineral and resilient floor coveringslong service life of up to 100,000 square meters and morecan be used with all common cleaning agents without any problemscleaning in the washing machine up to 60° (without fabric softener - no dryer) possible at any time
Erfahren Sie mehr zur Terrassenreinigung in unserem Blog "Bodenständig"
---
Mit dem Frühjahr naht die Hochsaison und es wird Zeit, die Terrasse auf Hochglanz zu bringen. Lesen Sie hier die wichtigsten Tipps und Tricks zur Terrassenreinigung, die wirklich jeder kennen sollte. Außerdem berichtet unser Kunde Jörg Thunig von seiner Herausforderung raue Terrassenplatten zu reinigen.